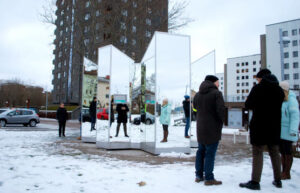 Recycling is seldom seen as an engaging or fun process but rather a chore that has to be done. Also many existing recycling rooms are dark and unpleasing. In this research project named the "Gamified recycling house" at Linneaus University, Sweden, the goal is to build a prototype for a new kind of waste sorting house. The first goal is to make this functional and aesthetically pleasing. An architect designed the house to have an unique form and an exterior made of mirrored glass. Surrounding households have access to six different hatches representing the six fractions of waste that are sorted on a household level in Sweden (two types of glass, metal, paper, newspapers, plastics).
The second objective is to make the house smarter using internet of things sensor technology. For example it is possible to measure how often the house is used and how fast the recycling bins inside the house are filled up. In the project we involve technology students to try innovative ideas such as installing speakers that thank the user for recycling.
The third objective is to gamify the house. The involved households have access to a gamification application on their mobile phones that provide different missions and achievements based on their recycling. The goal is to make recycling a fun and engaging process and also show the environmental benefits in new ways. It is also possible to gamify the data provided by the sensors to give feedback to the households.
In the project we work across disciplines and sectors involving the local waste management company and housing company to answer the questions: How can a gamified recycling house increase recycling rates? and How can gamification bridge the gap between everyday recycling and the long term goals of a circular transition?
Project leader: Joacim Rosenlund, senior lecturer in circular economy at Linnaeus University, Sweden