A lesson with grade 2
The lesson we had for year 2 went very well and it was successful, because the children appreciated our job.
The introduction
We started the lesson by introducing ourselves and our project. After that, we went through what we were going to do during the lesson and then we started

.
Learning some words
To start off we watched a film about climate change so that the children would get some help with understanding what would come next. The film was 7 minutes long and explained the atmosphere and the greenhouse effect etc. Then we asked some follow up questions to see if they really understood.
Creaza
Next, we showed them the Creaza we made, and they thought it was great fun! We also asked a few questions after the Creaza and after the questions they had to take a break.
Playing our game
After the break, we started by presenting our game. We divided them into five different groups with at least one of us as a leader in each group. When we had sat down in the groups, we explained a little more in detail how to play the game. Then we started playing. We all had a lot of fun. They even asked if they could keep the boardgames for a while to play again. We were impressed by how much they knew.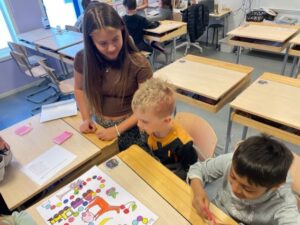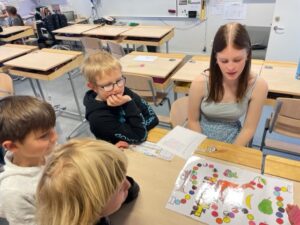 Kahoot
After the game, we had one last thing planned. We had made a Kahoot with questions that would summarize our lesson.

The class really liked the game and the Kahoot. They thought it was a great lesson.